1 January 2020 | Dave Targett
New Year, New Wines and New Vines
Our vineyards are a beautiful sight at this time of year – green and lush with fruit moving into the veraison stage of their annual growth cycle. Indeed, vintage 2020 is rapidly approaching and our vineyard team have been busy spraying, trimming and slashing the blocks whilst de-legging lateral vine shoots in preparation for netting the vines. Meanwhile, in the winery, freshly cleaned and maintained equipment awaits the arrival of this year's vintage crew from all corners of the globe. Our teams have been walking the vines keeping a close eye on progress and, by all accounts, vintage looks set to commence mid-February.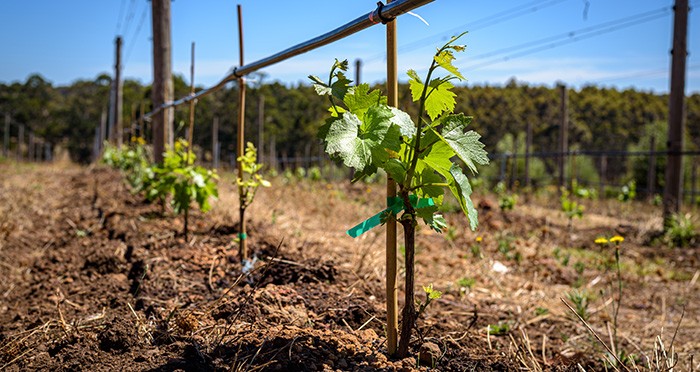 In other news, December saw a new block of Chardonnay planted in our Hazel's Vineyard (pictured). With healthy soils, warm weather and plenty of water, these young vines are growing exceptionally well. This planting consists of clones 95 and 96 adding a new dimension to our current Gin Gin clone Chardonnay.
We're also very please to introduce our new 2018 Grenache Syrah Mataro. This classic southern Rhone blend from our Hazel's Vineyard in Southern Margaret River has impressed with outstanding reviews.
"Love the style of this wine. Most (black) peppery, most clovey, lots of nuts and roasted goodness, but also fresh, well-ripened, silken berried fruit and a fine-grained spread of tannin to boot. Perfectly balanced, littered with woodsy spice notes, the epitome of finesse all round"
94 Points - Campbell Mattinson,The Wine Front 2019