Founder - Murray McHenry
Murray was born into a hotelier family, and created a successful chain of fine wine stores across Perth.
He has since developed their Nedlands Hotel Steve's into a Perth landmark, complete with an extraordinary array of the greatest wines from Australia and overseas for purchase or consumption at the large restaurant.
In 1984 he planted his first vines in Margaret River at our Burnside Vineyard, selling grapes for many years to Cape Mentelle, then owned by Hohnen.
In 1994 he and partner Brian Sierakowski began the development of the 30-hectare Calgardup Brook Vineyard, planting chardonnay in 2006.
McHenry's vineyard developments continued in 1998 with the purchase of a 75-hectare farm on Rocky Road, planting chardonnay, zinfandel and cabernet sauvignon, making single vineyard wines from those three varieties.
"All of our wine is created from our family-owned vineyards. Each site has been hand-selected for its individual site characteristics and aspect to sunlight."
Today Hazel's Vineyard on our Rocky Road block, south of Witchcliffe, is home to McHenry Hohnen's winery.

Head Winemaker - Jacopo Dalli Cani
Jacopo (rebaptised "Japo" by his fellow Australians) was born in Soave,in the north-east of Italy. Growing up surrounded by vineyards and wineries it isn't surprising Japo pursued a career in winemaking.
After graduating at the Viticulture and Oenology University of Conegliano, Italy and upon gathering valuable experience at renowned local producer Inama, Japo decided to broaden his knowledge by travelling to other wine regions both in Europe and in the new world. Japo completed internships in Bordeaux, Barossa Valley, Margaret River and in New Zealand.
Impressed by the quality of the wines and by the breath-taking beauty of the landscape, he returned to Western Australia and permanently settled in Margaret River.
"I have always been fascinated by wines that are not only delicious but also enriching and inspiring. I believe that while pleasing your senses great wines are capable of taking you on a journey to where the vines deepen their roots, they should capture the true essence of the land and the people who farm it."
As part of the McHenry Hohnen team, Japo shares the principles of minimal intervention winemaking and enjoys crafting single vineyard wines of distinctive character that are honest and truly hand-made.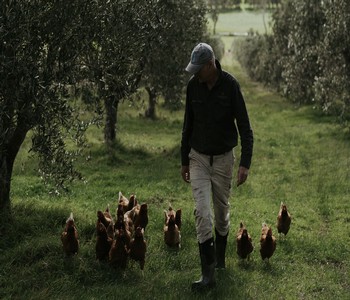 Viticulturalist + GM Simon Keall
WA born and raised, with a double major in oenology and viticulture from Charles Sturt University. He has decades of grape growing, winemaking and winery management experience throughout Australia and overseas.

Simon's passion for soil health and regenerative agriculture brought him to McHenry Hohnen where his holistic approach perfectly compliments Murray's vision.