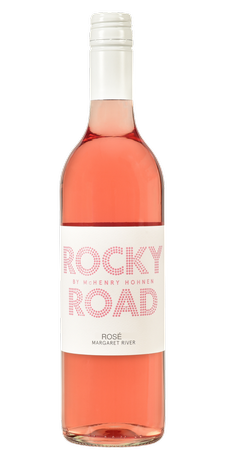 Our 2022 Rosé combines great freshness and lightness in a wine that is still complex and satisfying.
100% Shiraz
100% Margaret River
Wine Profile
Tasting Notes
Cranberries, rose petals and red cherries on the nose are complemented by a silky texture and balanced acidity. Medium-bodied and light on its feet, our Rocky Road Rosé displays intense forest berries and a satisfying, dry finish, making for a perfect summer drink.
Wine Making
The Shiraz fruit was picked in the early hours of the morning from our Calgardup Brook Vineyard. It was gently pressed to tank, and a slow and cool fermentation was encouraged. Improved texture was achieved by an extended time on fine lees over the Winter months. Bottled in September and just in time for Summer.
Vintage Report
A season that slowly escalated into a very hectic but also exciting harvest. A cooler and wet Spring saw vine growth delayed in development, and we were set for a late start of harvest. But then Summer came, and it was full of sunshine, dry and warm through December, January, and February with warm days and some warm nights. The red harvest started about a week after the end of the whites, giving our busy cellar team very little time to catch their breath. Yields were lower than expected across red varietals as well, however the warm and dry weather created desirable conditions for our reds that are already showcasing fantastic tannin ripeness, concentration, and vibrancy of colour.