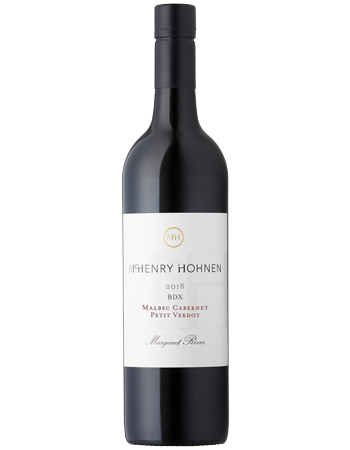 2020 BDX - Malbec, Cabernet Sauvignon, Petit Verdot
Tasting Notes
56% Malbec, 23% Cabernet Sauvignon and 21% Petit Verdot, this wine bursts with aromas of lavender and crushed violets. Sweetened spices, cassis, red cherries and mulberries are complemented by more savoury notes of bay leaf, olive tapenade and mocha. The palate is voluminous and soft with a ripe frame of tannins providing structure and length to this deliciously fragrant wine.
Vintage Report
We were blessed with near perfect growing conditions in Margaret River in 2020. A warmer than usual Spring, a dry, sunny Summer and cool nights. Significant diurnal temperature variations meant perfect ripening conditions across all of our dry grown vineyards. No disease and virtually no bird pressure (particularly at the start of harvest) meant we were able to pick beautifully clean fruit at ideal ripeness and flavour levels ... A real treat for our winemaking team. The only downside was exceptionally low yields across all varieties. Our dry farmed vineyard responded to the drier seasonal conditions by producing tiny and light bunches with small berries. Consequently, the fruit has incredible concentration and has retained a lovely natural acidity.
Winemaking
All fruit with components with the exception of the Cabernet Sauvignon were destemmed but not crushed into concrete fermenters to retain whole berries and achieve a highly perfumed wine. Extraction was gentle and each batch spent about two to three weeks on skins. Post fermentation, each parcel was gently pressed separately to French oak barriques of which 10% was new. Wines were matured for 15-months before being racked, blended and bottled in Spring 2021.
Grapes
56% Malbec 23% Cabernet Sauvignon 21% Petit Verdot
Alc 14%
Wine Specs
Varietal
Malbec | Cabernet Sauvignon | Petit Verdot
Wine Profile
Tasting Notes
50% Malbec, 46% Cabernet Sauvignon and 4% Petit Verdot
Vineyard Notes
100% Hazel's Vineyard - certified biodynamic in 2020. Our southernmost vineyard characterised by coarse ironstone gravel loam soil, Southern Ocean breezes, a northerly aspect and plenty of Margaret River sunshine.
Winemaker Notes
All fruit was de-stemmed but not crushed into concrete fermenters, with a 5-day cold soak before wild fermentation. Post fermentation, the wines were pressed to French barriques in our underground cellar. Wines were matured for 15-months before being racked and bottled after a coarse filtration.
Other Notes
Vintage Report - Vintage 2019 required meticulous vineyard management as a result of cooler than average temperatures, wet conditions and low sun exposure. Careful canopy management, precise picking decisions and accurate fruit sorting were essential for producing high quality wines. The Marri trees didn't blossom and the birds were hungry resulting in a lower than average yield despite our extensive netting program. Smaller canopies in our dry farmed vineyards and regular leaf plucking enabled us to pick ripe, clean fruit and produce whites with excellent purity and great natural acidity. Reds benefited from the long ripening season showing elegant tannins and great aromatic lift.