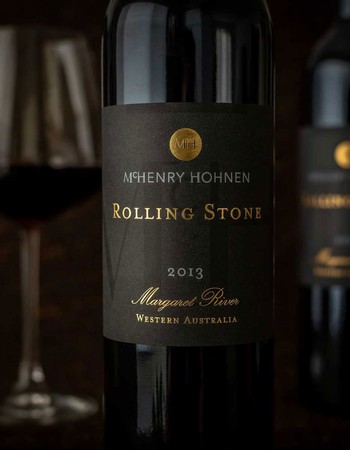 Rolling Stone 3 Pack Vertical
Rolling Stone represents the pinnacle of our red wine production and is the most authentic expression of Hazel's Vineyard. Biodynamic farming, meticulous vineyard management and the utmost attention to detail in the winery all contribute to a wine that speaks of our land.
Limited to 12 packs only, this museum vertical features three outstanding vintages of this iconic wine.
1x 2012 Rolling Stone
Score: 96 Points, James Halliday
A 28.5% each of cabernet, malbec, merlot and 14.5% petit verdot. Deep purple-crimson; this is a wine of awesome proportions, yet is so well balanced there are moments of elegance, and the blackcurrant, blueberry and blackberry fruit flavours will feed off the reservoir of tannins as the wine slowly wends its way to full maturity decades hence.
1x 2013 Rolling Stone
Score: 95 Points, Joint Top Scoring Wine Decanter Global Bordeaux Blend 2020
Showing a little more evolution in terms of colour in the glass, and on the nose, this is a full-bodied, rich and ripe style with plenty of concentration for further ageing. Still youthful on the palate, there are intense flavours of damson and bitter cherry fruits, complemented by nicely integrated oak, firm tannins and layers of flavour. Drinking Window 2020 – 2030
Score: 97 Points, Ray Jordan
Another wonderful wine under this premium label. It's a cabernet sauvignon malbec merlot and petit verdot blend. Meaty blackcurrant aromas with deeper plum and smoky cedar. Powerful and hugely concentrated palate with silky but firm tannins and excellent oak. A harmoniously integrated wine of enormous potential. So smooth, yet so powerfully restrained.
1x 2014 Rolling Stone
Score: 92 Points, Decanter Global Bordeaux Blend 2020
Powerful, quite pungent and dominated by dark-fruit characters: there is no shortage of intent here. Fleshy, quite showy on the palate, but with refined glossy oak and fine-grained tannins. A serious wine with the depth and concentration to age very well. A classic Margaret River example, well worth buying and laying down for several years. Drinking Window 2022 – 2030