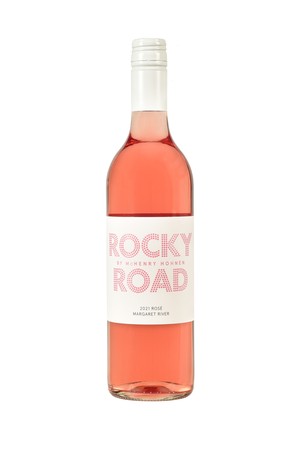 2021 Rocky Road Rose
Our 2021 rosé combines great freshness and lightness in a wine that is still complex and satisfying.
Raspberries, rose petals and red cherries on the nose are complemented by a silky texture and balanced acidity.
Medium-bodied and light on its feet, our Rocky Road rose' displays intense forest berries and a satisfying, dry finish, making for a perfect summer drink.
Winemaking
The Shiraz fruit was picked in the cool, early hours of the morning from our Calgardup Brook Vineyard. It was gently pressed to tank and a slow and cool fermentation was encouraged followed by an extended time on fine lees over the winter months. Bottled in September and just in time for Spring.
Vintage Report
The season started out with a cooler, wet spring which resulted in a lower fruit set for some varieties such as Chardonnay. We experienced above average rainfalls in early spring, meaning extra effort was required in our organically grown vineyards to mitigate disease pressure. Spring rolled into summer with long warm and dry days, however a couple of rain events in February and March required extra effort from our committed vineyard team in terms of canopy management and fruit selection at harvest.
All white varieties show fragrance and vineyard characters with perfume and aromatic lift combined with elegant textures and fine acid lines.
The Rhone varieties such as Shiraz and Grenache reached good physiological ripeness and show a distinctive spice and grace.
The 9th of April marked the end of harvest with Cabernet Sauvignon from our Hazel's Vineyard being picked in early hours of the morning and showing fragrance and an elegant tannin profile in true Claret style.
Varieties: 100% Shiraz
Alc 12.7%
pH 3.31
TA 6.8
Wine Profile
Tasting Notes
The colour is a pale salmon pink with a copper hue. The nose displays lifted aromas of cranberries and cherries complemented by a subtle fragrance of crushed jasmine and elderflowers. Strawberries and sour cherries abound on the palate with extended time on lees providing lovely texture and a refreshingly dry aftertaste.
Vineyard Notes
Vintage 2019 required meticulous vineyard management as a result of cooler than average temperatures, wet conditions and low sun exposure. Careful canopy management, precise picking decisions and accurate fruit sorting were essential for producing high quality wines. The Marri trees didn't blossom and the birds were hungry resulting in a lower than average yield despite our extensive netting program. Smaller canopies in our dry farmed vineyards and regular leaf plucking enabled us to pick ripe, clean fruit and produce whites with excellent purity and great natural acidity. Reds benefited from the long ripening season showing elegant tannins and great aromatic lift.
Winemaker Notes
Our 2019 Rosé is from the 100% Tempranillo grapes from our Hazel's Vineyard in southern Margaret River. The fruit was hand-picked and gently whole bunch pressed to tank. Here a slow and cool fermentation was encouraged followed by an extended time on fine lees. The wine received a small amount of sulphur and a light filtration before being bottled in spring.